LOLER INSPECTION
FORKLIFT SERVICE
CUT YOUR FORKLIFT SERVICE & REPAIRS COSTS
NEW LOW PRICES
ADDITIONAL SERVICES
LOW SERVICE COSTS
LOW HIRE CHARGES TOO
LOW EMISSION
SERVICE AND REPAIRS
Our service engineer can carry out a THOROUGH EXAMINATION of your forklift as required by
LOLER 1998 (Reg 9)
> Items examined include:-
chains,forks,mast & cylinders.and any fork attachments
price - from £95 +vat
if our engineer is on site at the time of booking, or add travel costs
To book it now
or....call 020 8350 3125
Blueway Forklift Service provides a full service and repair facility. Our highly skilled professional service engineers will service or repair your forklifts with as little disruption and downtime as possible. With a wealth of experience in the Forklift Industry spanning 40 years, we are able to offer honest and sound advice on the condition of your forklift as well as the options to replace forklifts which are genuinely uneconomical to repair. Submit your enquiry using our online Enquiry Form
If we do need to take your forklift to our workshop for extensive repairs, you may need to a hire a forklift in the meantime. We shall be happy to recommend a well trusted specialist Forklift Hire company with a proven track record of satisfied customers.
Central London Low Emission Zone - Kent - Essex - South East
In these difficult economic times, our highly skilled forklift engineers will carry out service and maintenance of your forklifts at a much lower cost than you may have paid before. Our service engineer can assess the work, give you an estimate on the spot and we can issue an invoice by email which you can pay by credit card immediately so you know what your costs are.
Fast, friendly, expertise and, if the service engineer says he can't get your forklift going exactly at that time he will try to locate replacement parts that are cheaper than the manufacturer would charge.
If your forklift needs major repairs, we will collect the forklift truck for return to our workshop, for faster repair. After agreeing the charges with you, and if you require it, we can deliver a forklift on hire to cover the repair period. This means your forklift is repaired away from your site, and is not taking up valuable space. You can carry on with your work using the hire forklift truck.
The charge for a standard 1.5 ton replacement forklift is £110 per week.
The long-term standard forklift hire charge is £90 pw and includes all the maintenance, servicing and inspections FREE under a fixed monthly charge
We are ready and waiting with replacement hire forklifts that we can get to your site inside the London Low Emission Zone or anywhere in the South East, generally within the same day, so we can get you working.
In addition to the standard forklift service, we provide
the following service, repairs and maintenance tasks :-
STANDARD:
External adjustments - hand brake
Free
Checking wheels nuts for tightness
Free
Chains mast roller anchor
Free
Drive shaft
Free
Seatbelt and drivers safety guard
Free


ADD-ONS






Brake Adjustment ( including wheel removal)
£ 150 +vat

Inboard drum or disc add
P.O.A.
We can deliver and transport
your forklift trucks within
the London Low Emission Zone
We service and repair
all types of Forklifts :-
Counterbalance Forklift Trucks
Electric
Diesel
Gas
Telehandlers
Sideloaders
Articulated
Aisle Masters
Reach Trucks
ANY TYPE ANY MAKE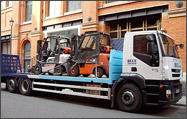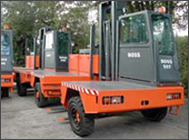 from £195 +vat
plus:

> Filters
> Oils
> Chain Lubricant
> Grease
> Full safety check
> Report on all worn items
& Life expectancy
> Engineer's assessment
of the general serviceablity
of the machine

To book it now
or...call 020 8350 3125

No Account Necessary
Pay by Credit Card

this site meets the validation criteria of w3c